VINCE FERRARA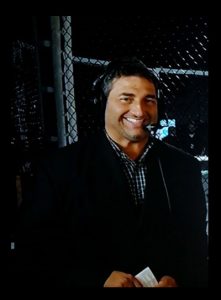 A Tampa, Florida native and University of South Florida graduate, Vince is as versatile and passionate of a broadcaster as you will find anywhere. In today's world of broadcasting, where there's no room for one-trick ponies, Vince has utilized his diverse skills in multiple platforms and roles with great success.
As you'll see below in his on-camera and radio work samples, Vince has continued to excel with confidence and preparation in his recent roles as a Sports Talk Show Host, Play-By-Play Announcer, Sideline Reporter, Pregame Reporter, Update Anchor, Halftime Anchor, Game Studio Host and Color Analyst.
Currently, Vince is a Sports Talk Show Host for 99.1 The Sports Animal in Knoxville. He was named 2017 On-Air Personality of the Year by the radio cluster's management team. In addition, he's the station and Cumulus Media Knoxville market digital content and social media director with record-setting company success. He holds numerous on-air roles for the Vol Network (U. of Tennessee) including Baseball Play-By-Play Announcer/Color Analyst, Football and Basketball Pregame Reporter and Basketball Halftime Reporter and more. Vince is a Play-By-Play Announcer for the SEC Network's digital platform "+" for multiple sports. He's also the Lead MMA Commentator/Play-By-Play Voice for Aries Fight Series on pay-per-view.
Vince is a panelist on the highly rated weekly TV show "The Sports Source" on WATE-TV CH. 6 in Knoxville. He's also a frequent guest on radio shows in various markets to share insight on the Vols, SEC, MMA and national sports.
Vince speaks Italian, which was his first language he was taught as a kid. He learned English in school mainly. He's a proud dog dad of mini goldendoodle Daphne and cherishes his time and walks with her.
TV Sports Broadcasting Samples
Radio Sports Broadcasting Samples
1-on-1 Interview with NFL Running Back
Tennessee Football Practice Report
Halftime Stats Report on Vol Network
Sideline Reporting on Vol Network
Game Studio Host on Vol Network
Basketball Play-By-Play on UAB Blazers Network
NCAA Tournament Game Report
Baseball Play-By-Play on Vol Network
Pregame Player Interviews on Vol Network
"Talent is never enough. With few exceptions the best players are the hardest workers." – Magic Johnson